AfroFuturism Festival: Black Sci-Fi, Fantasy, Horror and Gaming
What is AfroFuturism?
AfroFuturism takes you on a journey for self-discovery and engages the spiritual senses.

Nigerian Artist Ytasha Womack, author of "Afrofuturism: the World of Black Sci-Fi Fantasy and Fantasy Culture," explains that, to her, Afrofuturism offers a "highly intersectional" way of looking at possible futures or alternate realities through a black cultural lens. It is non-linear, fluid and uses the black imagination to consider mysticism, metaphysics, identity and liberation; and, despite offering black folks a way to see ourselves in a better future, Afrofuturism blends the future, the past and the present.
get your tickets to the AfroFuturism Festival 2022
AfroFuturism -- Black sci-fi, horror and fantasy -- is a movement that the Urban Mediamakers organization has joined. A consortium of content creators who use new technology to create a multitude of interactive projects, the organization gives urban creatives an opportunity to showcase their artistry as they tell stories of their communities, compete with peers, hone their skills through educational series and interact with public supporters of media excellence. The Urban Mediamakers bring a mixed bag of media projects representing AfroFuturism.
You are invited to be a part of the 5th annual AfroFuturism Festival celebrating Black sci-fi, fantasy, horror through art, films, books, comics and gaming. Featuring virtual and in-person events.
AfroFuturism Fest in Gwinnett | Black Sci-fi, Horror and Fantasy | $20 | Youth 12 and under free with paying adult | Register now!
Bring the family and enjoy good fun with content creators!
WHEN: Saturday, October 22, 2022 | 2:00-8:00PM
WHERE: Historic Lawrenceville Female Seminary, 455 S Perry St, Lawrenceville, GA 30046
WHAT: 5th AfroFuturism Fest presented by the 21st Urban Mediamakers Film Festival (UMFF):

Independent UMFF2022 AfroFuturism films screening in competition.
Best AfroFuturism Costume Contest - Youth and Adults | Cash prizes
First Place: $100 | Second Place: $50 | Third Place: $25
Creative Artist Exhibits including The Art of BLOT with his Objet Trouvé of BLOT collection, "Tell Me" Photo Exhibition by gifted photographer Ericka Jones-Craven.
Urban Mediamakers games, giveaways.
ADMISSION: $20 | Youth 12 and under free with paying adult. Hot dogs -- chili, slaw -- chips, sodas, water and candy provided with the ticket purchase.
GET YOUR TICKETS NOW: https://www.eventbrite.com/e/378916297847
Register today and bring your family. $20 per person | Youth 12 and under free with a paid adult.
Get in free with a bag of non-perishable food items. All youth must be accompanied by an adult.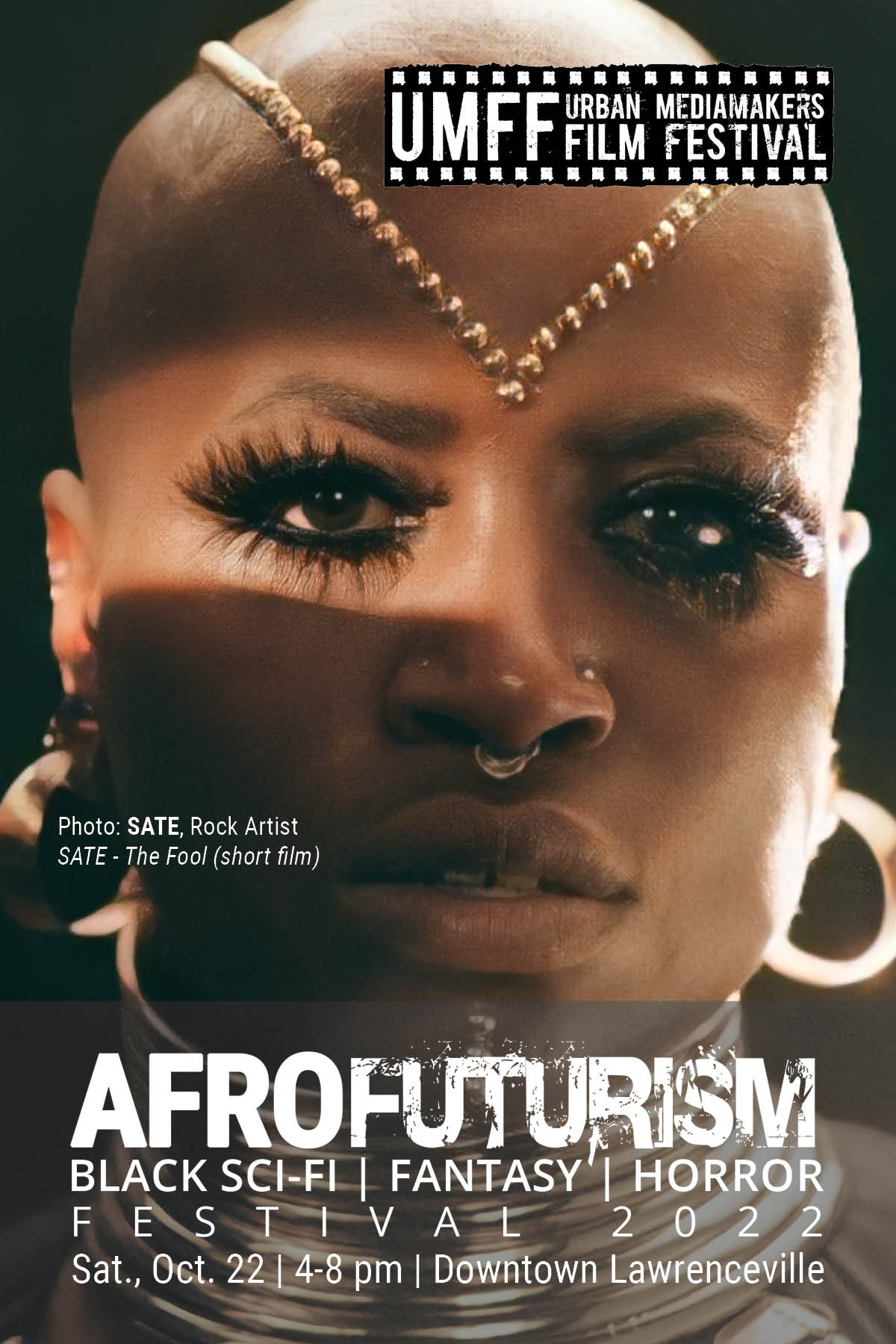 Note: This schedule may change without notice.
AfroFuturism FesT 2022 Tickets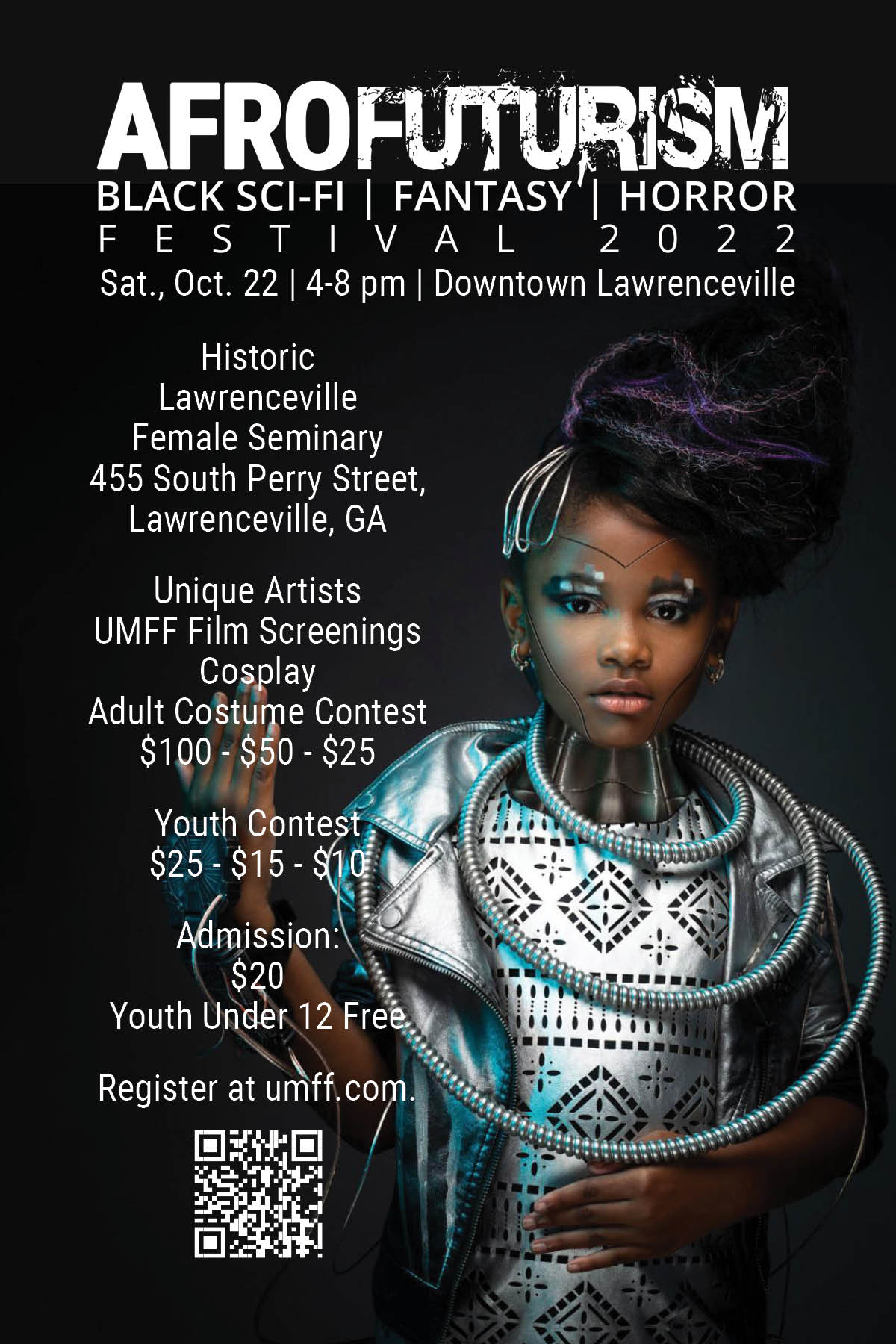 Call for
Entries:

AfroFuturism Festival
Closed for 2022

Passes:

Adults: $20
Youth 12 and under free with a paid adult.

Vendors: